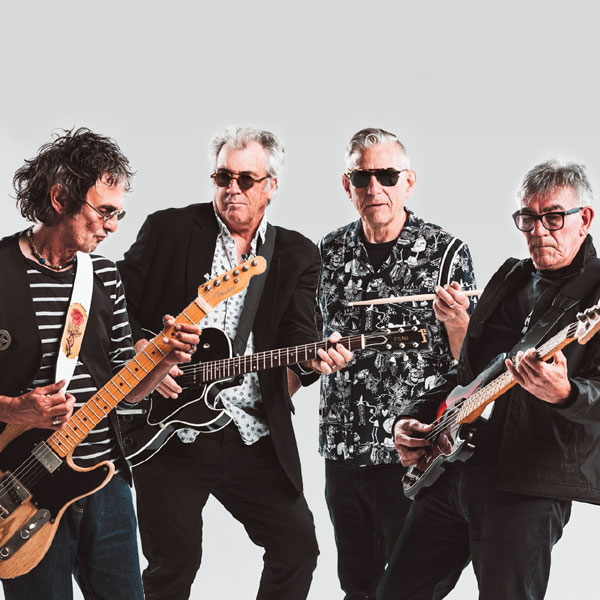 Demand for Hello Sailor has grown and last summer's gigs included headlining a show the South Island Masters Games in Timaru and A Concert on the Green on Auckland's Hibiscus Coast and playing The Biggest Pub Gig in the World at Spark Arena in December. In January 2021 audiences loved them at the Summer Concert Tour series of shows in Queenstown, Taupo and Whitianga. In March they played the Auckland Craft Beer Festival at Spark Arena then closed out the season in April with an appearance at the Selwyn Sounds festival in Christchurch in front of an estimated audience of 10,000.
After much agonising over the loss of Dave McArtney in 2013 and Graham Brazier in 2015, Hello Sailor in 2021 are dedicated to keeping their music and memories alive. The current line-up is as close as fans will get to Sailor's classic sound. Powered by the indomitable rhythm section of Rick Ball on drums and Paul Woolright on bass, they have the Sailor energy and attitude. Harry Lyon and Jimmy Taylor take care of the weaving guitars, Stephen Small on piano and Andy Dixon on saxophone complete the package. Their shows feature Hello Sailor, Pink Flamingos and Graham Brazier favourites, hit songs from Harry's back catalogue and his 2018 critically acclaimed hit soloalbum "To the Sea".
THE BAND
Rick Ball (Drums): Rick had a #3 hit single with 60s band The Challenge while still in his teens. He formed Ticket along with Paul Woolright in the 1970s who released two albums in the 1970s and toured NZ and Australia. Rick was an in-demand player in the Auckland scene before being approached by Hello Sailor in 1976. He put 'the rock' into the band and is credited with helping create their unique sound. Rick played on every Hello Sailor album
and was part of the classic line-up that toured NZ, California and Australia.
Harry Lyon (Guitar & Vocals): Harry was co-founder, guitar player and songwriter with Hello Sailor. His songwriting credits include, Lying in the Sand and Watch Your Back from Sailor's award-winning first album, Dr I Like Your Medicine, 1981 Single of the Year for Coup D'Etat, and Muscles, from Midge Marsden's Burning Rain album and a 1991 APRA Silver Scroll finalist. Harry also played with The Pink Flamingos, Hammond Gamble and The Legionnaires for whom he wrote the Top 20 single You Bring Out the Worst in Me. He released a solo album To the Sea in 2018 and has been busy touring to promote it, opening for US band America in November 2019.
Jimmy Taylor (Guitar & Vocals): Jimmy's music career began in Dunedin playing in bar bands but he moved to London in 1989 and became a founding member of Miss World that featured musicians that had played in bands like Original Mirrors, The Pretenders and Roger Taylor's post Queen line-up The Cross. During the 90s Jimmy recorded three further Miss World albums and featured on recordings by The Starlings, Orchestral Manoeuvres in the Dark and Dave Stewart from the Eurythmics.
Paul Woolright (Bass & Vocals): Paul has been the anchor in a who's-who of iconic Kiwi bands. He along with Rick Ball were the rhythm section in Ticket when they played alongside Black Sabbath at NZ's first outdoor music festival. He was part of the original Pink Flamingos line-up, played on all their albums and toured with the band until joining up with The Legionnaires before spending 10 years in London. On his return to NZ in the early 2000s he was brought into the Sailor fold and was the band's longest standing bass player.
Stephen Small (Keys): In twenty years of studio recording and live performances, Stephen has worked alongside many luminaries of popular music, such as Jaz Coleman, Belinda Carlisle, Beth Hart, Graeme Downes (Verlaines), Hammond Gamble, Autozamm, Bonnie Tyler and Leo Sayer. He has arranged and directed music for radio broadcasts, televised studio concerts and large outdoor events in New Zealand. Stephen is Music Director and arranger for legendary Grammy-winning New Age artist Kitaro. He produced the Pop Album of the Year (2012) for New Zealand singer-songwriter Jamie McDell (EMI/Universal) and has accompanied on piano singers such as Dame Malvina Major and the late Sir Howard Morrison.
Andrew Dixon (Sax): Andy has played all over NZ as well as international tours and festival performances with The Nairobi Trio for 15 years. He also play in The Lazy Boys, a Blues Brothers line-up, Tuxedo Junction and The Queen City Big Band. He is a composer, arranger, engineer, producer and has taught music and music industry related subjects at tertiary level.
Hello Sailor are a rockin' good time…. Catch them soon!