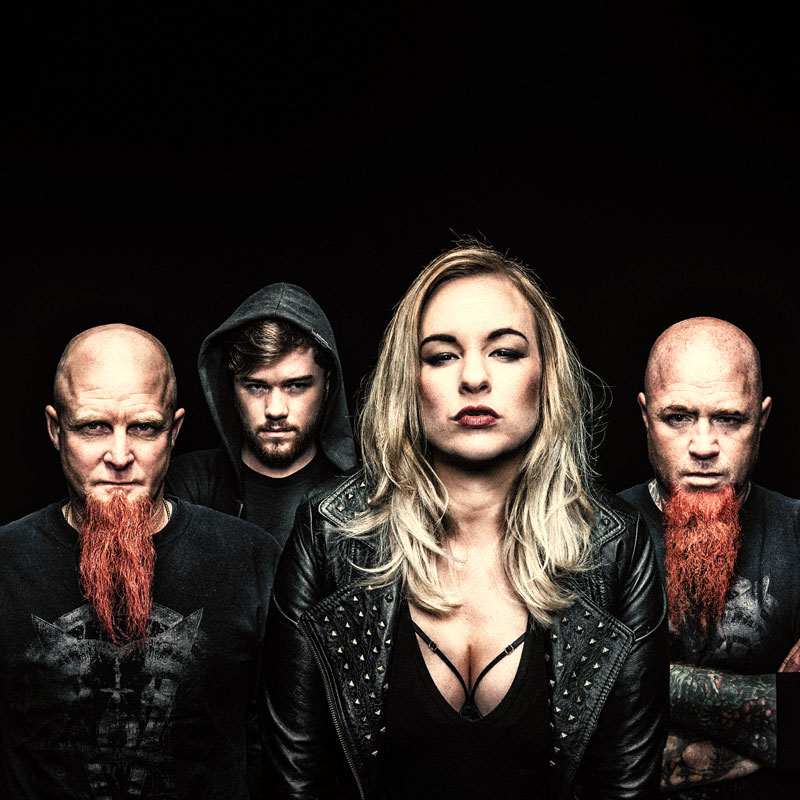 Hard hitting Kiwi band DEVILSKIN release their third studio album, RED RED is the universal colour of passion, vitality, blood, danger, romance, anger, horror and love; everything evocative. Of all the colours, RED is a warning and a statement. Recorded at Roundhead Studios Auckland mid-2019 with the award winning team of producer Greg Haver, and engineer/mixer Simon Gooding; this is the bands most complex, complete and confident collection of songs yet.
RED was released worldwide Friday April 3rd on all digital platforms, due to Covid-19 the physical album release eventuated on 1st May and included a red vinyl, black vinyl, CD and a limited-edition box set.
RED album chart re-entry at #2 on the Official Album Chart behind global streaming sensation DRAKE. This amazing result is achieved having suffered the predicament of a split format release due to Covid-19.
RED is #1 on the NZ Album chart and follows the #1 chart achieved by both previous studio album We Rise and Be Like The River.
The response to the new album release has been nothing short of immense,735,000 Spotify streams in the first week of release. Latest single CORRODE - released in January - has already amassed over 160,000+ views on YouTube, gained radio airplay rotation on notable stations such as Kerrang and Primordial radio and was selected for Spotify's 'Rock Out' playlist.
"To say that we are excited for people to hear these songs is an understatement" remarks bassist Paul Martin. "We can all say, quite honestly, that we have put our very best into this album, the songs, the production and the entire presentation, everything is how we wanted it, sincere. Bringing these songs to life in the studio was intense, but extremely satisfying. I think we have surpassed our own expectations and now it's up to our friends to climb inside this album and explore this beast that we have built."
DEVILSKIN have garnered a formidable reputation and a solid fan-base worldwide from their relentless touring schedule. A swathe of brilliant live reviews from Europe to USA to Australia are testament to the groundswell of support for this hard-working and focused New Zealand act. RED starts with a sonic throat punch titled Do You See Birds and promises to enthrall the listener with a tour-de-force of emotions and moods. From the epic and eerie Blood & Bone, the caged rage of Same Life, the visceral impact of The Victor, to the poignant beauty of Sweet Release, the resplendent grandeur of Bright Lights, the swagger of Be Like The River and the manic fury of Everybody's High But Me.
DEVILSKIN have long been noted for their emotive song-writing and ability to touch peoples' hearts, and on RED they have bared their soul with their finest performance yet.
DEVILSKIN are a phenomenon in their native New Zealand, their Platinum selling debut album We Rise entered the NZ national album charts at Number 1 and stayed in the top 40 for over 54 weeks! The band exploded onto the NZ rock scene with the infectious Little Pills and Never See The Light singles and was followed by the Number 1 airplay song Start A Revolution.
WE RISE was released on July 11, 2014 and went straight to the top of the charts remaining as the #1 Album and #1 Kiwi Artist Album for 3 weeks and achieving Gold sales after only 2 weeks. The album is now certified with sales in excess of DOUBLE PLATINUM.
In November 2014 the band released Live At The Powerstation dvd/cd which captured the band at the end of the We Rise tour slaying a sold out Powerstation crowd in Auckland.
Devilskin replicated their debut album success by debuting their second studio album BE LIKE THE RIVER at Number 1 on the New Zealand Album charts. BLTR has subsequently achieved GOLD sales certification. Supporting American rock legends, DISTURBED and playing in front of an 11,000 sold out crowd at Vector Arena DEVILSKIN celebrated their new album chart success on the 18th November 2016. This performance kicked of a heavy touring schedule in support of the album release.
Grammy Award winning band HALESTORM flew into New Zealand to support DEVILSKIN. The tour kicked off with a truly memorable New Years Eve gig overlooking Earthquake damaged Christchurch Cathedral in a festival style open air gig. The tour continued with 7 gigs in NZ and 3 in Australia.
During 2017 Devilskin completed two tours throughout the UK and Europe which included their debut festival appearance at the legendary DOWNLOAD UK festival. 2018 they were invited by great friends Halestorm for an 18 date European tour playing to sold out gigs every night, which was quickly followed by their own 10 date headline tour through the UK.
2019 got off to a flying start with invitations from SLASH to be sole support for his Australasian Arena tour followed by appearances at Download Sydney & Download Melbourne and our own HOMEGROWN Festival in Wellington.
Devilskin have earned a formidable reputation by earnestly demonstrating commitment to unpretentious musical values, writing songs that have depth and passion, and a relentless touring schedule. Their tactical instrumental attack is balanced by the seductive Jennie Skulander and her incredible voice that sweeps from whisper to roar, rips with power, drips with melody and captivates with sincerity.